Remodeling a kitchen is a big investment for your home. While most of us have factored it into a budget, the question of how to manage your kitchen remodel cost is always a challenge. Make no mistake, there are some obvious investment guidelines. But at the end of the day, where you spend most of your money is dependent on how you plan to use your kitchen. For example, a chef may want to splurge on top-notch appliances. A mother with five children may need to prioritize large cabinetry with a lot of storage and sturdy hardware.
It's also important to think about how long you'll be living in this home. Is it a home that will last years and be handed down? Is it a temporary living space and will be sold after the kids go to college? Are you looking to turn it over and get a good investment in it? These are all important questions that will guide you to make the proper decisions on your kitchen investment. Here are some basic rules of thumb on where to invest the most.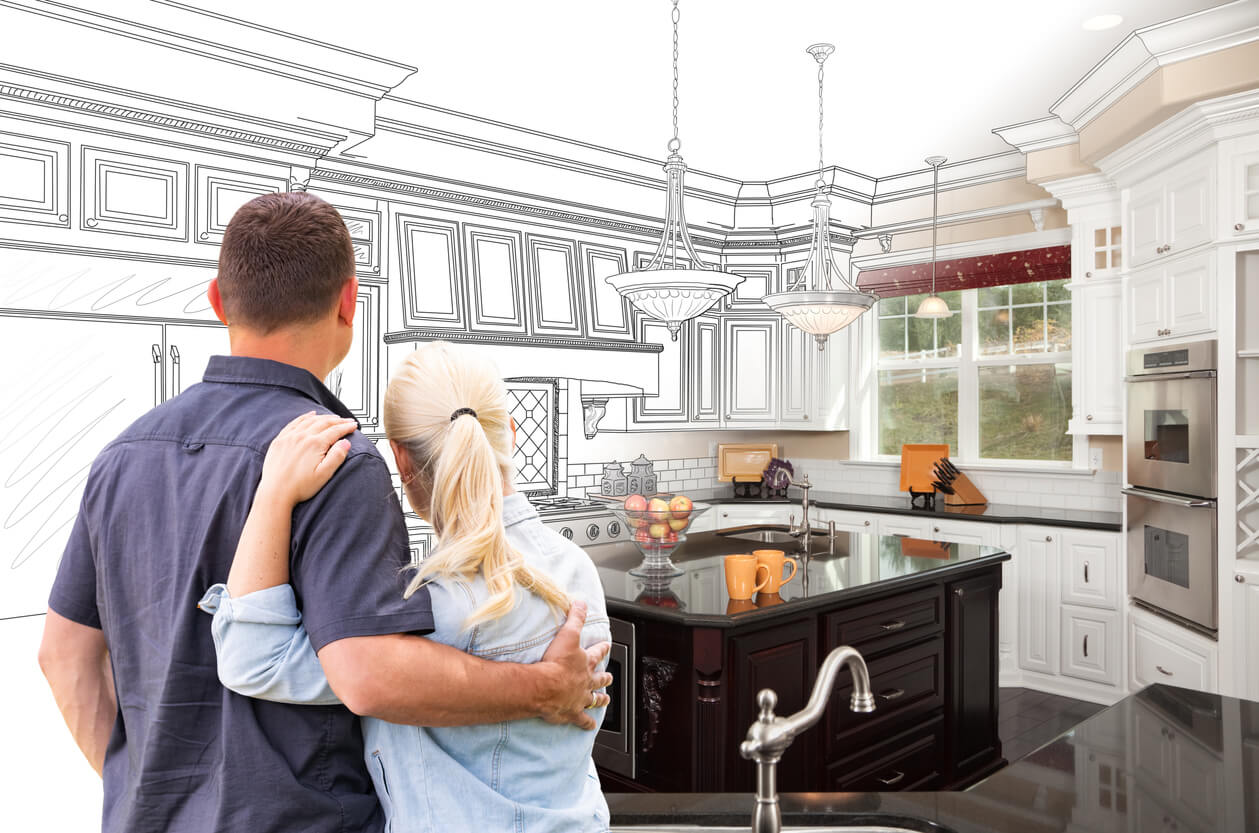 Cabinetry
Investing in sound and sturdy cabinetry will save you money in the long run. We often forget how much we use cabinets because using them becomes so habitual. We walk down to the kitchen, open the cabinet, grab a mug, open another cabinet, grab the sugar, etc. Be sure to choose cabinets with soft close doors and drawers, which upholds the cabinetry longer. This is a must if you eventually plan to sell your home. You may also want to consider installing cabinets that reach all the way to the ceiling to give you plenty of storage. This is ideal for those planning on having a large family or those who already do.
Cabinetry that's made out of solid wood or plywood is going to be much more durable and last way longer than cabinets made of particleboard, so be sure to spend a little extra on the material. Take a closer look at the pros and cons, here.
Installment and delivery of cabinets can be where prices start to rise. If you're willing and able, try installing the cabinets yourself. Most cabinets these days come with easy instructions for at-home installation. However, if your cabinets are custom made and very expensive, you may want to opt for a professional installation. It would be a bummer to invest so much in beautiful cabinets and then ruin them because you don't know what you're doing.
Appliances
Unless you're on an all raw diet, appliances are used more than anything else in the kitchen. Choosing appliances for your kitchen will depend on how you use them. For example, someone who is very health conscious and makes a lot of smoothies and juices may want to splurge on a Vitamix, while someone who really enjoys cooking may want to spend a little extra on a beautiful stove, and someone who loves baking may want an expensive Kitchen-Aid mixing stand. No matter what appliances are most important to you, try to choose ones that are energy-efficient to save money and energy in the long run.
Countertops
Countertops are another important investment in your kitchen remodel cost. They can really make or break the design of a kitchen. If you've got a little extra to spend, opt-in for stone, quartz, or granite countertops. These countertops are non-porous and consequently long-lasting and easy to clean. A nice stone or quartz countertop can really add a dose of class to the kitchen that brightens up the room as a whole.
Plumbing
The perfect time to replace any bad or old plumbing is during a kitchen remodel: everything is open and ready for primping. If you don't have good plumbing in your kitchen, you're going to run into a series of problems later on and will potentially have to rip apart your floors, move aside appliances, etc. While you have your kitchen in a transition state, call in a professional plumber, like Nautilus Plumbing, to take a closer look. You may need a new gas line installed or copper repiping. This is much more common in an old home, so be prepared for these expenses. Plumbing is perhaps one of the most important factors to take care of during remodeling, so don't wait to call Nautilus Plumbing today for your free estimate.
If your kitchen remodel cost overwhelms you, you can always hire professionals to help. Designers, contractors, and plumbers can aid in getting you a better grasp of your budget and what work is essential to achieve your dream kitchen.